Michael Harley
Michael G. Harley was born in San Marino, CA and enjoyed sports, camping and boating growing up with his family. Attending Loyola High School in Los Angeles, Michael was first introduced to the motto, "A Man for Others" where he performed over two-hundred and fifty volunteer hours at an elementary school in Los Angeles. Michael first interacted with individuals with developmental disabilities in high school where he would help out in his older sister's classroom who is a special education instructor in Los Angeles.  From an early age he knew he wanted to make an impact on his community and the people around him. Always yearning for a desire to expand his understanding of the world, he ventured to the University of Hawaii in August of 2001 to complete a bachelor's degree in English.

Upon earning his degree, Michael was commissioned into the Army as a 2nd Lieutenant in the Infantry. After completing various military training schools, Michael deployed to Iraq where he led a platoon in combat operations for a year. Following the end of his active duty commitment, Michael joined the CA National Guard where he deployed to Kosovo for a year as part of a United Nations peace keeping mission. He left the military in the rank of Captain in 2010. His awards and decorations include the Purple Heart, bronze star, meritorious service medal, Ranger Tab and Airborne wings among others.
Following his experiences being injured in combat, Michael embarked on a career in emergency medicine. He worked as an Emergency Medical Technician (E.M.T.) and also as a Certified Nurse Assistant (C.N.A.) before venturing into the field of providing support to people with developmental disabilities. Michael's journey in this field began in August 2011 where he began working as an independent living skills instructor. In a short time, it became clear that Michael had found his new calling working with adults with developmental disabilities.
Seeing a need for qualified vendors to provide services to the developmentally disabled population in the Los Angeles area and having the belief that his background experience and knowledge could bring a new service design concept to the people he supports, Michael partnered with Shannon Hahn to launch Level Up Solutions in 2015.
Since then, he has assisted in the development of agency policies and procedures and life skills curriculum as well as well as building community and strategic business relationships. Michael is able to combine a unique blend of direct experience and analysis in order to craft unique service plans that speak to the needs and desires of the people he supports. Always a team player focused on shared results and mutual respect and communication, Michael's prides himself on a 'lead from the front' mentality. Any given day you can find him teaching in a classroom, meeting with concerned support circles, or interacting with the people he supports.
Shannon Hahn
Shannon Hahn was born in South Orange County and feels fortunate to have grown up in a community which prioritizes equal access to programs for all students regardless of levels of educational need. 
Always intrigued by opportunities to interact with students who were mainstreamed into the school district, she  recognized her increasing desire to pursue involvement in supporting  programs that would enhance their lives.  Shannon's value of social justice led her to advocate for equal access to resources for this important part of our society. 
Her family life afforded her hands-on experience, as her mom provided afterschool daycare for special needs children and her step father taught as a Special Education teacher for 32 years.   Shannon thrived in the learning environment, and she volunteered throughout the years with students ranging from elementary education through the Adult Education and Vocational Programs.  Shannon soon recognized her vision and passion for pursuing an education and career in this profession, with a sense of fulfillment and purpose in life.  
One of Shannon's fondest memories is her years volunteering with Special Olympics, witnessing the comradery and access to athletic games bringing a sense of pride and accomplishment for all.   
Miller Children's Hospital in Long Beach also provided an opportunity for Shannon to participate in helping children cope as they courageously faced health issues, battling a variety of illnesses and traumatic challenges in life. 
To build on her foundation, Shannon's academic background includes attending Concordia University in Irvine, California, in the liberal arts studies program.  In the summer of 2007, Shannon began exploring the job field and searched for an organization that focused on providing for and supporting individuals with developmental disabilities.  Since June 2007, Shannon was fortunate to serve as an Independent Living Instructor, Coordinator and Manager of Client Services in Los Angeles and Orange County.  As part of the management team, Shannon made significant contributions towards a hopeful  future of having meaningful independent lives while she witnessed the individuals she supported develop a sense of accomplishment in contributing to society. Shannon is grateful for the numerous opportunities to empower and partner with these individuals and fellow staff members with shared goals for success.   
One of her most recent contributions is the development of the Level Up Life social program. As Shannon met with many of the individuals she supports and their parents, she became aware of the consistent theme of concern for these individuals ' lives beyond their parents' living years.  This led her to further develop a program to provide a sense of community and lasting friendships.
Shannon strives to keep these individuals motivated and hopeful in reaching for their goals and experiencing satisfaction and pride in their abilities rather than their disabilities.   Shannon's source of inspiration, her everyday heroes, are the individuals she supports, who have become her role models and teachers in life.
Chelsae
Chelsae was born and raised in Orange County, California. Chelsae enjoys outdoor activities and helping others. From a young age, Chelsae has been involved in many organizations that support individuals with disabilities.
Chelsae attended Dana Hills High School in Dana Point, California where she became involved in the Best Buddies organization and was a student aide in the special education program. Through her involvement in these programs, Chelsae was inspired to pursue a career working with individuals with disabilities.
Upon graduating high school, Chelsae attended Chapman University from which she graduated in 2013 with a Bachelor's degree in Integrated Educational Studies and minors in Psychology and Sociology. In 2014, Chelsae completed her Teaching Credential program at Chapman University and received her Moderate/Severe Education Specialist Instruction Credential.
After receiving her teaching credential, Chelsae taught in an elementary school for a local school district for 2 years before joining the Level Up Solutions team in 2015 where she has been able to fulfill her passion of working with individuals with disabilities and supporting them on their journeys towards reaching their goals and leading independent lives
Adam
Adam grew up in Charlotte, North Carolina. His passion for helping people with disabilities started in middle school when he befriended a classmate with Down Syndrome. This friendship continued throughout high school and inspired Adam to volunteer with the Special Olympics and assist in the special education classroom at his school.
Adam moved to Los Angeles in 2008 to pursue a career in writing for TV and Film. He's had success in that career, selling a movie to 20th Century Fox and most recently writing on the 13th season of the television show "It's Always Sunny in Philadelphia".
Drawing on his life-long desire to make a positive impact on the lives of people with disabilities, Adam spends his hiatus time each year working as a Direct Support Professional in addition to his full-time duties as a parent and writer.
Demmie
Demmie Sosa was born in the Boyle Heights neighborhood of Los Angeles. She joined the LU team in 2019 as a Direct Support Professional and currently attends UCLA. When Demmie was two weeks old, her parents moved to Puerto Vallarta, Mexico with her two older sisters. As a result her Mexican culture plays a huge role in her daily life. At the age of 5 her parents separated, and her mother raised her along with her sisters. It was her mother who demonstrated the qualities she personifies now: strength, independence and self-motivation.
Demmie, alongside her mother and sisters moved back to Boyle Heights where she enjoyed sports, going to the movies, and spending time with her family. For 8 years she was part of her local church worship team and taught five to seven-year-old children during Sunday School classes. Now she is a youth leader and mentor for middle school and high school teenagers at a church located in South Central Los Angeles.
In high school Demmie joined the varsity softball team where she continued to develop her teamwork and leadership skills. After high school Demmie was accepted into UCLA where she is currently receiving her Bachelor of Arts in Sociology with a minor in Education Studies. She will be graduating in June 2019 and hopes to continue her education by attaining her master's in occupational therapy.
Growing up in a low-income community stirred up a passion for helping others, especially individuals who have been underprivileged. In the field of supporting adults with developmental disabilities she hopes to encourage people in their everyday lives and continue to grow, building new relationships with people and assisting others improve their quality of life.
Derek
Derek grew up in Alameda with a desire to assist others. As he progressed on through high school, he began working at Kaiser Permanente as a summer intern and volunteering at UCSF Benioff Children's. Through these experiences, he discovered his desire to pursue a career in health care and aims to be a Certified Registered Nurse Anesthetist (CRNA).
Derek is currently a third-year nursing student at UCLA and aims to become a RN. While at UCLA, Derek has worked at the Office of Residential Life as a programs manager, volunteered at Ronald Reagan UCLA Medical Center as a nursing volunteer, and has served as his college fellowship at a local convalescent home. Through these experiences, he has gained different opportunities to work with varying cultures, ages, and socioeconomic backgrounds.
Derek joined the Level Up Solutions team in Fall 2018 as a Direct Support Professional and has gained valuable work and life insight supporting individuals with developmental disabilities. He enjoys working with the people we support and expanding his knowledge and experience.

Farrah
Farrah was born and raised in Hong Kong and has two younger sisters. Growing up in an academically competitive school and being immersed in an achievement-heavy culture, she witnessed how many of her peers struggled to cope with their stresses but lacked emotional or mental support from their community. As such, she quickly realized her passion for helping others build confidence, self-esteem and resilience through difficulties in life. She became intrigued by the field of psychology and mental health among other areas of support.
In high school, after moving to Sugar Land, Texas, she realized that her capacity for assisting others was something she could pursue professionally. Over the years, Farrah has developed a passion for community service through tutoring low-income elementary and middle school students, and through serving as a youth leader and worship team member at her church.
To further her passions, she enrolled as a double major in Psychology and Statistics at UCLA. After taking many classes on developmental and clinical psychology, she grew a heart for people with developmental disabilities and the challenges they face on a daily basis. With the strong desire to pursue a career that can make a real difference in people's lives, she wishes to pursue a career in public health when she graduates in 2021, hopefully working as a music therapist. Farrah is honored and excited to be joining the Level Up team and hopes to share her compassion, leadership skills and knowledge with this community.
Grace
Grace was born and raised in San Jose, California by South Korean immigrant parents who operate a humble dry cleaning business. Through financial difficulties, personal medical diagnoses, and close contact with loved ones' illnesses, she discovered early on her desire for serving others in need and the power of self-advocacy, independence, and mental health.
Grace attended Prospect High School and graduated in 2012. During this time she was involved with the Best Buddies program and mentored peers on the Autism Spectrum. Through working with often misunderstood and overlooked, bright and brilliant individuals with disabilities, Grace recognized the joy and fulfillment experienced when encouraging individuals to overcome their deepest fears and doubts. She then worked as a Behavioral Therapist for young children and teens on the Autism Spectrum prior to attending UCLA.
Grace graduated from UCLA in 2019 with a Bachelor's of Arts degree in Medical Anthropology with triple honors. She is a Certified Nursing Assistant and Home Health Aide with experience providing direct patient care working in nursing home and psychiatric hospital settings.
Working with Level Up as a Direct Support Professional allows her to support adults with developmental disabilities grow in their everyday lives, build new relationships, and assist them to lead fulfilling, healthy lives. She finds this role a huge privilege and honor.
Currently, Grace is working towards graduate nursing school to become a Psychiatric Mental Health Nurse Practitioner. She hopes to pursue a nursing career working with marginalized individuals with complex psychiatric conditions overcome their cognitive and behavioral circumstances.
Jessica
Jessica Garcia was born and raised in Inglewood, CA. She has worked as the lead overnight staff for the Pathway program at UCLA Extension for 4 years. In this capacity, she assists the program and students with residential and emergency support, tutoring, conflict resolution and social events among other duties.
A veteran of the Pathway and Level Up Solutions organizations, Jessica has 5 years of experience working with young adults with disabilities. Through her direct and residential support roles, Jessica has shown a remarkable ability to build the professional and personal relationships required to provide a role model and mentor for the organizations' participants.
Jessica obtained her Bachelor of Science in Psychobiology from UCLA in 2016. Upon graduation, Jessica joined the UCLA Endocrinology Stem Cell Research team to work on an innovative treatment to ameliorate Diabetes. Jessica aspires to build a career in the healthcare field, with a specialty in developmental and intellectual disabilities.
In addition to working with the Level Up team, Jessica enjoys spending time with her family and friends, reading horror fiction and romantic novels, baking, and caring for her dogs – Stella and Frank.
Jesus
Jesus Plascencia was born and raised in Los Angeles, California. After high school he attended Pasadena City College and then transferred to California State University, Long Beach, where he studied human development and philosophy. Jesus initially wanted to be a philosophy professor, but realized that he wanted to do more than discuss issues of morality – he wanted to make a real difference in people's lives. He eventually found that his real passion is in the field of developmental disabilities and mental health, specifically within the Latino community.
As an undergrad, Jesus was a research assistant in the departments of Health Science, Healthcare Administration, Human Development, and Social Work. In these labs, he worked on an array of research projects, including the effects of noise pollution on cardiovascular health, the implementation of a voluntary no-smoking policy in majority Asian apartment complexes, barriers and access to healthcare for Latinos, access to resources for Latino families with children with autism, narrative development in children, and differences in autobiographical memory between native and non-native English-speakers. For these projects, Jesus was responsible for literature search, participant recruitment, data collection, writing manuscripts, creating research posters, and presenting at research conferences.
Besides his research experience, Jesus has also worked for the Brotherhood Crusade as a mentor to at-risk youth in South Central Los Angeles, Autism Learning Partners as an applied behavior analysis therapist to children with autism and other behavioral issues, and the Neurological and Physical Abilitaion clinic as a teacher and behavior interventionist with children, adolescents and young adults with developmental disabilities. Jesus began working for Level Up Solutions as a Direct Support Professional in the summer of 2018.
Jesus currently attends USC's Marshall School of Business, where he is expected to graduate with a Masters of Science in Social Entrepreneurship in May 2020. His goal is to take the professional experience he has gained in this field and his business education to develop and implement new and innovative ways to address societal issues. In particular, Jesus aims to address the disparity in access to quality therapeutic services for individuals from early childhood to adulthood with developmental disabilities and/or psychological diagnoses from low socioeconomic backgrounds. Additionally, Jesus greatly desires to develop ways of bringing high-quality therapeutic services to underserved areas of rural Mexico and other Latin American countries.
Justina
Justina Tadros was born in Alexandria, Egypt. She was three years old when her family immigrated to the United States in order to escape religious persecution. Growing up, her parents and her Coptic Christian and cultural background influenced her to continuously have a strong faith and to always be hospitable. During her youth, she filled her free time with creative artwork, sports, and outdoor activities.
Justina attended Valencia High School where she participated in the Circle of Friends club. The organization focused on allowing students to interact and engage in activities with disabled youth. During high school she also became a Sunday school servant at her church where she still currently devotes part of her weekends to teaching and guiding elementary youth in the Christian faith and hymnology.
After graduating in 2015, she began dedicating her time aside from college, to volunteering at hospitals and became a home caretaker. Through these numerous experiences, she was able to discover her passion for service and healthcare. Justina is currently attending her last year at UCLA where she is pursuing a Bachelor's degree in Physiological Science. Her plans after graduation is to become a nurse, and ultimately be involved in the entire healing process for any individual in need of care.
Keith
Keith was born on a naval base in Guam to a Filipino native and an African American naval officer. Later, Keith moved from there to the Philippine islands at the age of four and then to Long Beach, California when he was six. At an early age Keith expressed an interest in arts of all kinds, from creative writing, to music and so on.
This fascination with expression and the arts followed him to high school where he was accepted into a small learning community focusing on arts, film and animation at Juan Rodriguez Cabrillo High School. This is where Keith adopted the motto "Ars longa, vita brevis" (Art is long, life is short) and started to learn about art culture and learned many kinds of craft. He did volunteer work teaching elementary kids about the importance of art and its effectiveness as a form of expression while attending high school through CSULB. After school, he participated in a program introducing sports television film techniques, filming various sporting events for the Long Beach Unified School District.
After high school, Keith went straight to work as a graphic designer for a small print shop while taking courses at Long Beach Community College. Taking a break from school, Keith began working full time as a night stocker at Winco Foods, moving up in the ranks and using the time he had during the day to paint and play drums in a rock band, The Planet Pluto. This continued for three years as Keith studied art on his own, and explored different mediums. In his free time aside from art and drumming, Keith enjoyed exploring the Los Angeles landscape via hikes and trips to different niche communities. Through his troubadour lifestyle Keith filled many voids and created many new ones.
Being handed an opportunity to expand his life knowledge by working with people with disabilities through UCLA Extension, Keith began to see art and communication as a way to bridge and combine communities. Keith established strong bonds within this community and realized the importance of creating an atmosphere which promotes healthy and fulfilling lifestyles which he feels everyone is entitled to.
Keith returned to school with the intention of attaining a bachelor's and eventually a masters in fine arts. His goal is to contribute to individuals with disabilities lives by providing them with an outlet for expression and a voice.
Kent
Kent grew up in Chino Hills, California. At an early age Kent expressed a heightened concern for the wellbeing of others. After taking an anatomy and physiology class in high school he knew he wanted to pursue a career in the medical field.
Kent graduated from UCLA in 2018 with a Bachelor's of Science in Physiological Science. While at UCLA, Kent completed a one year hospital internship at the Ronald Reagan Medical Center through the Care Extender program. While doing this, he increased his patient interaction skills and was exposed to various medical procedures. Kent also worked in a pediatric infectious disease research laboratory where he assisted with projects that looked into how HIV is transmitted from mother to child. Kent plans to attend graduate school in the future to become a Physician's Assistant so he can continue to help others.
Kent's passion to assist individuals who have disabilities stems from growing up with a brother who had autism. This experience helped give Kent a unique perspective which he uses when interacting with his participants. Kent joined Level Up Solutions in the Fall of 2017 and is determined to assist his participants with increasing their level of independence!
Laura
Laura is a Manhattan Beach native who has a passion for academics and helping others. In 8th grade Laura began tutoring and mentoring younger students. In high school she volunteered at Torrance Memorial Hospital Neo-Natal Intensive Care Unit. Upon graduating, Laura decided to study Early Childhood Development at El Camino College. During her studies Laura worked as a classroom aide assisting children on the Autism Spectrum. She then worked full-time for 4 years as a lead preschool teacher interacting with young children with various learning disabilities.
Wanting to help her students and gain a better understanding of disabilities, Laura began attending Mount Saint Mary's University. Here Laura pursued a Bachelors in Psychology with a minor in Early Childhood Development. During her time at MSMU, Laura served for 3 years as the president of Pi Theta Mu, a service sorority. As part of the sorority, Laura was able to partner with wonderful organizations like Miller's Children's Hospital, PUC Schools, and No Kid Hungry.
Providing services and support to adults with development disabilities embodies the passion that Laura feels is her life's purpose. Laura enjoys all things beach, sports and traveling; especially with her family. She gets the greatest joy from her two young nieces and rescue dog, Cici. She is excited to join the Level Up Solutions team where she will not only be able to help support others, but continue to grow and learn.
Marie
Marie grew up in Western Washington. She relocated to California in 2009 to be a student in the Pathway Program at UCLA, graduating in 2011.  Valuing her new friendships, the sunny Southern California weather and the abundance of career training opportunities made it easy for Marie to choose Westwood Village as her home away from home.  She has been active in many internship programs including UCLA Hospital, Universal Music Group, and Variety Magazine.  She also enjoys volunteering for Meals on Wheels. Marie currently works for Level Up Solutions as a full-time overnight staff member. 
Marie's deep concern for other's well-being compels her to offer a helping hand to those in need, as she has had to address many of the same common issues in her own life and knows the value of a strong support system.  On her free days, Marie enjoys walking her dog Riley, attending film premiers, television screenings, and visiting Mickey at Disneyland.
Marta
Marta was born January 1991 raised in Los Angeles, CA. At a young age her dream was to become a teacher. She started volunteering at her old elementary school; when she attended middle school through high school. She worked with second grade students in classwork and homework.
Growing up was the most difficult part. Her father suffered a heart attack and her priority was taking care of her dad while helping around the house. At that point on she realized she wanted to work in the medical field. Her father had to go through physical therapy and that made her want to become a physical therapist to be able to help people gain back movement and be independent once more.
After high school she became a mom and went to a trade school and got her certificate as Medical Assistant/Cardiac Tech. Her first job was at an acupuncture clinic as front desk receptionist. Marta managed the front desk mostly by herself and in the process learned a lot about Chinese herbal medicine. As much as she loved to greet patients her heart was somewhere else and knew that she could do so much more. Marta plans on going back to school and continue her education to be able to accomplish her dream.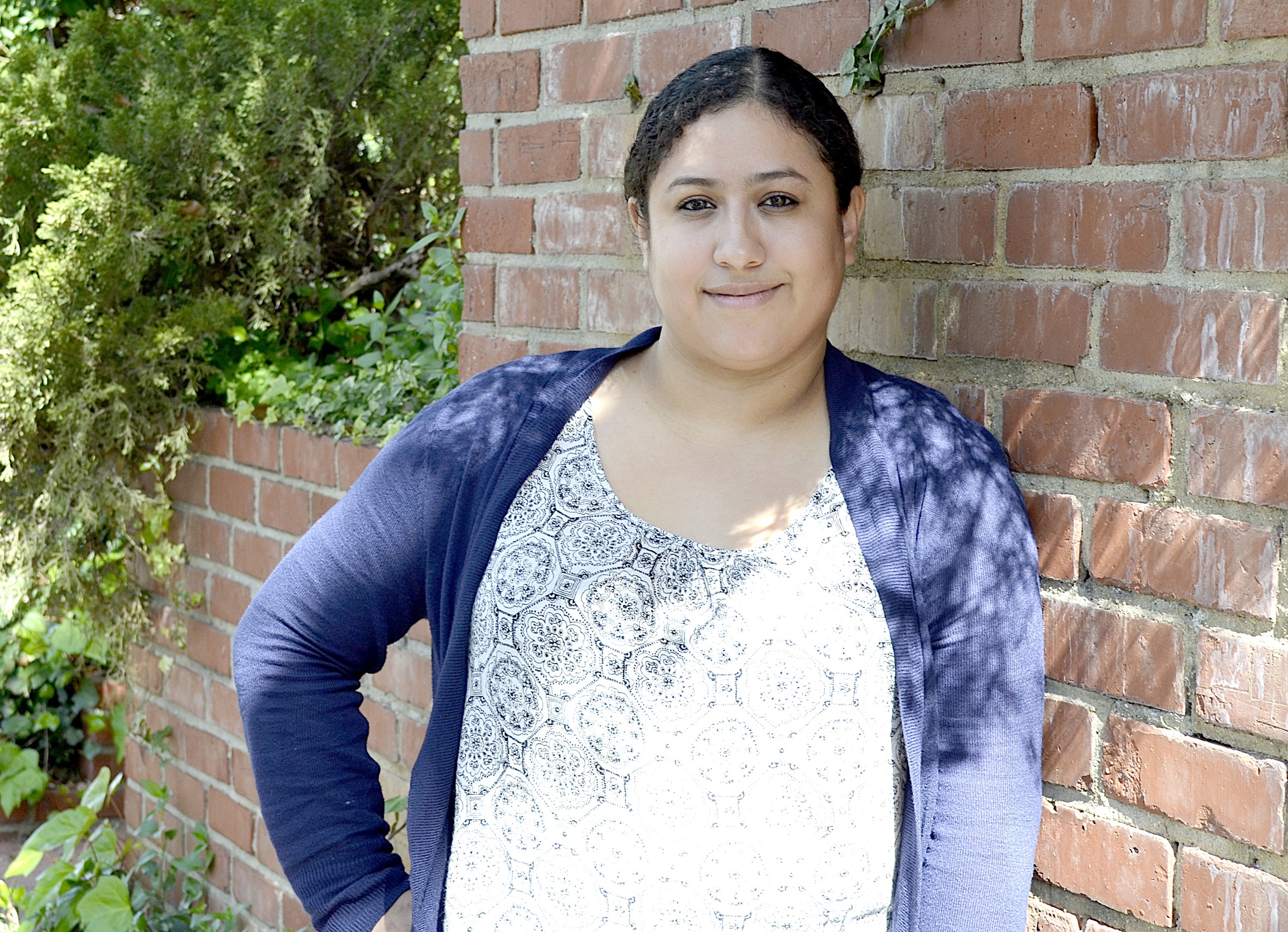 Michelle
Michelle was born in Los Angeles, California and raised primarily in the San Fernando Valley. Growing up as the only child of a single mother, Michelle learned the importance of independence and perseverance from an early age. While in high school Michelle involved herself in various extracurricular activities including student council, cheerleading, rugby and also volunteered at Kaiser Permanente in Panorama City. Volunteering in the hospital sparked Michelle's interest in the medical field and sciences, eventually pursuing a career to help those in need. After graduating high school Michelle attended Cal State University Northridge and was initially uncertain of which major to study. During her last semester at the university Michelle took a neuropsychology class which validated her interest in the sciences and pursue a career in healthcare. This realization led to Michelle's decision to study vocational nursing.
After finishing nursing school Michelle began to work for an in-home healthcare agency. There she helped care for primarily geriatric patients but also gained experience working with individuals with cerebral palsy, multiple sclerosis and other forms of developmental disorders. Though such disorders can be very debilitating, Michelle witnessed individuals thrive and lead fulfilling lives.
Michelle wants to aide individuals gain confidence in their abilities and live independent lives. Joining the Level Up team has done just that. Michelle has returned to school to further her education and pursue her passion for helping others.
Mike
Mike was born and raised in Mission Viejo, California. He grew up with three older sisters. Mike loved learning at an early age but he didn't discover his passion for science, particularly anatomy and medicine, until high school.
One of Mike's sisters' who currently lives with his family has developmental disabilities. She has given Mike strength throughout his life and inspired him to pursue his goal of working with individuals with disabilities.
Mike attended JSerra Catholic High School in San Juan Capistrano, California. His mentor and teacher Dr. Betty Cappelletti introduced him to medicine. Mike was in her Pre-Medical Program while at JSerra and discovered his passion for medicine while shadowing physicians at the hospital and taking medical courses.
Since graduating high school in 2016, Mike has started attending UCLA and plans to graduate in 2020 with a Bachelor's degree in Neuroscience. After, Mike plans to attend medical school, where he hopes to specialize in working with a demographic of patients who have developmental disabilities
Mike joined the Level Up Solutions team in Fall 2016. Throughout college, Mike has had the privilege of growing in his ability to help others live independently while at the same time building lasting relationships. He sees this as motivation to continue to pursue an education in medicine in order to help make a positive impact on the lives of individuals with disabilities.
Natali
Natali was born in Ventura, California and raised in Lomita, California. She was born from immigrant parents who later became a carpenter and preschool assistant. At an early age she became interested in singing, dancing, playing Dr. and sports. She played soccer in middle school and high school and went on to receive the Rookie of the Year Award and received her first honorary school letter. Natali joined the Human Resources Academy which inspired Natali to help others, joining the HSA program opened many doors for her. Natali began volunteering in nursing homes and hospitals.
Natali graduated high school and decided to take a couple years off from school to travel and find herself. Upon her return she decided to return to school to become a surgeons assistant. Natali did her rotation at St. Vincent Hospital in Los Angeles where she specialized in Spinal and General Surgery. She also worked at the Beverly Hills institute of plastic Surgery where she specialized in plastics. She wanted to help people in another way, which opened the door to Level Up Solutions. Natali's ultimate goal is to help others in need of a better life and Level Up did that for her.
"This is one of the most rewarding contributions by far, I am simply a gardener helping grow small seeds into flowers". Natali
Riley
Riley was born in Oregon and was raised in Lynnwood, Washington. He's a labradoodle and his unusual hair color is called sable. He knew he found his forever person as soon as they met. They looked each other in the eyes and knew that they belonged together. Riley is a trained Service Animal and he's all business when he's on the job with his partner, Marie. When he's off-duty, he loves going to dog parks to play fetch, wrestling with his sister Rae and cousin Rosie, and getting lots of belly rubs. Riley recently relocated to Los Angeles and is excited to join the Level Up team!